THE FINAL EVENT - 12th OCTOBER 2024
If there's one event to put on the list for the run of a lifetime, it's the Abel Tasman Coastal Classic.
Come stride into paradise – 33km Trail Run from Awaroa to Marahau along the renowned Abel Tasman National Park.
Kaiteriteri Recreation Reserve Camping Ground is the event base for the Abel Tasman Coastal Classic, where Registration and the Prizegiving Dinner Function will be held.
Boat transport for all runners will be from Kaiteriteri, making for a relaxed start to the day. There are a number of accommodation options within the Katieriteri Recreation Reserve of Apartments, Cabins and Tent sites plus many more in the local area. Check out the Kaiteriteri Recreation Reserve HERE.
Upon disembarking at Awaroa, there will be a mass start and you will begin your epic run in the World Famous Abel Tasman track to the Marahau finish.
Entries are limited to 350 and entries received after the 350 limit is reached will be placed on a first come waiting list and processed when a spot becomes available and is confirmed by the competitor.
PLEASE NOTE: We do not allow entries to be transferred to other competitors or for future events. Please refer to our withdrawal policy for more information.
PLEASE NOTE: The finish line (Marahau) and the registration area (Kaiteriteri Recreation Reserve) is approximately 20mins drive apart from each other.
You can book an event bus (booking essential – $20pp) to pick you up from the Marahau DOC Carpark (event Finish Area) at 6:30am on event morning.
APPROXIMATE DISTANCES
Awaroa to Onetahuti (Tonga) Beach: 6.4km
Onetahuti Beach to Bark Bay: 6.1km
Bark Bay to Torrent Bay: 7.7km
Torrent Bay to Marahau: 13km
NEWS & UPDATES
23/10/2023
Abel Tasman Coastal Classic 2023 Photos from this years event have been posted to our…
08/10/2023
Here are the provisional 'Overall' and 'Age Group' Results. AGE-GROUP-2023-ATCC-ResultsDownload OVERALL-2023-ATCC-resultsDownload
PRE-EVENT EMAILERS
Leading up to this event we will be sending out 'pre-event' emailers, that will give you important information. Watch this space for when you will receive them…
THE COURSE

SOME HISTORY
The Abel Tasman Coastal Classic first began in 1994 and quickly became one of New Zealand's most popular Trail Runs. The reputation of the event, the location and its organisation continues to spread via word of mouth and the event continually sells out each year.
Back in 1994 the event started from Marahau and finished at Totaranui, – meaning a 40km approx distance. Soon after, the event was shortened slightly with a start at Awaroa instead. Top athletes are among the competitor tally over the years including Scott Molina, Erin Baker, Greg Fraine, Jonathan Wyatt, Tracy Clissold, Michelle Allison, Phil Costley and Rod Dixon (to name drop just a few). Nowadays we also have a strong international feel amidst competitors with runners from places such as Japan, America and Australia coming over to join in the fun.
Those runners lucky enough to have been a part of the first ever Abel Tasman Coastal Classic will most probably vividly recall the lunch they were given that day, as on the boat leg home amidst choppy seas, a fair few scotch eggs came back up to feed the local wildlife below (no wonder the marine reserve seems to be doing so well ….). The last group of competitors and race organisers were left waiting among rocks before having to ditch their boat trip and travel back to Riwaka (where the function was held) over the Takaka Hill via Bus. Elvis was even waiting to entertain guests that evening – but alas, he wasn't the most popular, especially after our Striders flag seemed to mysteriously disappear and has never been seen since.
PAST COURSE ROUTES
1994 – 1999: Marahau to Totaranui
2000: Marahau to Torrent Bay & Return (Weather contingency course)
2001 – 2003: Marahau to Awaroa
2004 – 2012: Awaroa to Marahau
2013: Totaranui to Marahau (20th anniversary event)
2014 – 2016: Awaroa to Marahau
2017 – 2020: *Awaroa to Marahau (altered start on Airstrip, and first section of track removed. New shorter course.)
2021 – No event due to covid Restrictions
2022 – Totaranui Loop – alternative course due to weather damage on track
2023 – Awaroa to Marahau
ENTRY
Entry fee for 2024 – $275
Includes your souvenir Nelson Events reuseable shoe bag, boat transport to Awaroa on race day, lunch and prizegiving dinner function at Kaiteriteri Recreation Reserve post event.
Entries are limited to 350.
ENTRY REQUIREMENTS
This is a running event only. Walkers will not meet the respective cut off times.  The minimum age of competitors is 18 years.
Suitability: As a guide competitors should be adequately trained to complete a marathon event. Putting it politely – it's a run in the park that is equal to a marathon and you need to prepare accordingly. This is not a walking event. All competitors should be capable of completing a half marathon (road) or equivalent in less than 2hrs 10mins to avoid missing cut-off times at Onetahuiti (Tonga) then at Torrent Bay. If you are unsure of your fitness level, please email us at [email protected] and we can discuss. Ultimately, we want you to enjoy your day running in the park.
Please note that all competitors compete at their own risk and the Organising Committee will accept no liability for any mishap or injury, or loss/damage to personal property during the event.
Please see Nelson Event Policies for further details.
In the event of extreme weather/health/environmental conditions, the Organising Committee reserves the right to substitute an alternative course, postpone or if necessary, cancel the event.
WITHDRAWALS
Withdrawals must be received via email to [email protected]
Withdrawals received before 1st July 2024 will have their entry fee and any merchandise refunded in full minus $30 admin fee.
Withdrawals received between 1st July and August 1st 2024 will have their entry fee and any merchandise ordered refunded in full minus $75.
Withdrawals received before 1st September 2024 will be refunded $150 and any purchased merchandise.
Withdrawals received from the 1st of September 2024, no refund applicable.
Please note that we do not allow entries to be transferred to other competitors, future or other events.
Entries will open November 10th - 6pm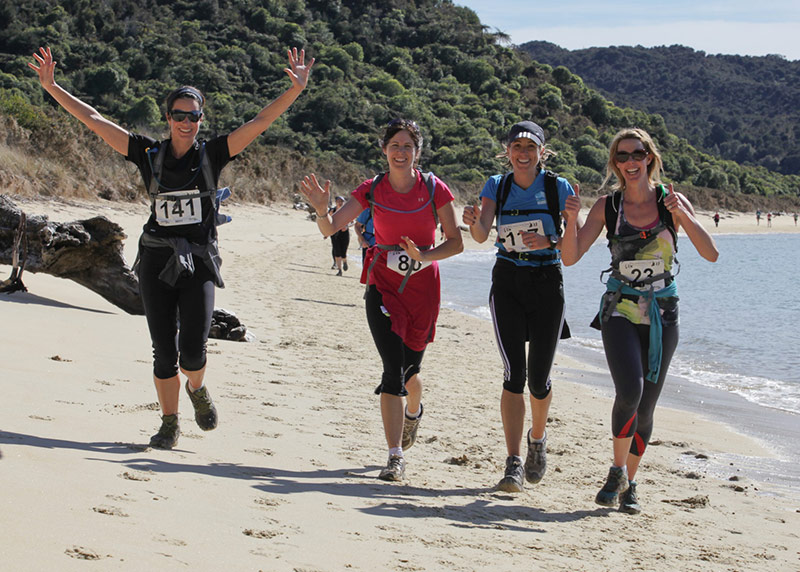 ON THE DAY
Abel Tasman Coastal Classic - Summary of Day
| Time | Where | Details |
| --- | --- | --- |
| 6:30am | DOC Carpark, Marahau | Check in for pre-booked optional event bus that takes you from Marahau to Kaiteriteri. |
| 7:00am | Kaiteriteri Recreation Reserve EVENT BASE | Registration opens (race packs given and gear checks done) |
| 7:45am | Kaiteriteri Beach | Boats begin departing for Awaroa Start Line |
| 9:00-9:15am | Awaroa Beach | Leave gear bags on beach for their return to Marahau Finish Line |
| 9:15am | Awaroa Airstrip | Event Briefing |
| 9:30am | Awaroa Airstrip | Event Start (mass start) |
| 11:55am | Marahau | Track entrance to Abel Tasman National Park First finisher expected |
| From 12:00pm | Marahau | Track entrance to Abel Tasman National Park Finish Aid/ Lunch and Gear Bag collection |
| 4:30pm | Kaiteriteri Recreation Reserve EVENT BASE | Prizegiving Function opens |
| 5:30pm | Kaiteriteri Recreation Reserve EVENT BASE | Prizegiving meal served |
| 6:30pm | Kaiteriteri Recreation Reserve EVENT BASE | Prizegiving |
| Please note times are approximate these may change depending on weather/sailing conditions | | |
Aid Stations
Aid Stations are operated by NBS Strider Hands and will be positioned at Onetahuti (Tonga), Bark and Torrent Bays.
There are three aid stations in total – the first at Onetahuti, second at Bark Bay and the third at Torrent Bay. Water (for topping up your carrier)  will be available at the three aid stations. Special drinks will not be catered for.
In your racepack (that you collect at Registration) will have your bag of emergency jellybeans/jetplanes for you to take on your journey.
Please remember this is a National Park and therefore if you all wrappers/containers/personal rubbish needs to be carried by you to the finish. No rubbish is to be left along the track – a pack in, pack out policy applies.
Food/Supplements/Water
In keeping with the track's pack-in pack-out rubbish policy – please ensure you bring out all food/supplement wrappers you take in.
Falls River Bridge
The Falls River Bridge has a loading restriction of 5 persons – please observe this for your own safety. Any groups approaching this bridge together must regroup after crossing to ensure it is not used to create an unfair advantage for any competitor/s.
Clothing
Competitors warmup clothing will be transported back from Awaroa to the Finish Area. Please keep this to a minimum. You will be given a bag label in your race pack – please secure this around your bag to aid identification at Marahau (you are only able to uplift this by showing your official race number to our crew). Liase with Nelson Events Crew on the Awaroa beachfront as to where to leave this.
The Finish
The finish is situated at the end of the track (approximately 1km from the Marahau Outdoor Education Centre). There will be water available for finishers. Please note that toilets are located in the carpark. Cell phone coverage is limited in the Marahau area.
There are no shower facilities at Marahau.
LUNCH: Your packed lunch will be waiting for you at the finish. Note you will need to show your race number to uplift this.
Please let us know if you have not being receiving our pre-event emailers as these will have important event information in them.
Also – if you entered more than one person with the same email address, only one email is sent by the system to any email address, ie if two people are registered with the same email address, only one email will be sent (and addressed to one person only, with their event information) – unfortunately this is not something we can change. If you would like to receive one personalised to you, please provide a different email address to us and we can amend. Email your full name and the email address to [email protected]
TRAVEL & ACCOMMODATION
Travelling from the North Island?
HONOURS BOARD
Abel Tasman Coastal Classic - Race Records (Awaroa to Marahau)
| Age Group | Name | Time | Date |
| --- | --- | --- | --- |
| Under 40 Men | Phil Costley | 2.22.09 | 2002 |
| Under 40 Women | Eveline Coombe | 2.52.49 | 2001 |
| 40-49 Men | Phil Costley | 2.22.50 | 2011 |
| 40-49 Women | Carline Thomas | 2.52.05 | 2005 |
| 50-59 Men | Gary Dick | 2.56.28 | 2001 |
| 50-59 Women | Tereza Zaicek | 3.32.58 | 2012 |
| 60+ Men | Norman Carrington | 3.17.55 | 2007 |
| 60+ Women | Delphine Gore | 3.36.14 | 2002 |
Note, in 2017 the course from Awaroa changed due to a section of track being unpassable. From 2017 the course has thus been shortened, and the new times are not reflected in the record table below.
Abel Tasman Coastal Classic - Race Records (Awaroa to Marahau) - Short Start Section
| Age Group | Name | Time | Date |
| --- | --- | --- | --- |
| Under 40 Men | Brett Smith | 2:24:52 | 2018 |
| Under 40 Women | Freyja Prentice | 2:49:18 | 2017 |
| 40-49 Men | Tim Wright | 2:34:33 | 2017 |
| 40-49 Women | Megan Ryan | 3:09:04 | 2018 |
| 50-59 Men | Geoff Barnes | 2:51:43 | 2018 |
| 50-59 Women | Sally Gibbs | 2:48:37 | 2017 |
| 60+ Men | Stephen Parsons | 2:58:17 | 2018 |
| 60+ Women | Margaret Moretti | 3:40:48 | 2017 |
Abel Tasman Coastal Classic - Race Records (Marahau to Totaranui)
| Age Group | Name | Time | Date |
| --- | --- | --- | --- |
| Under 40 Men | Jonathan Wyatt | 2.51.10 | 1995 |
| Under 40 Women | Tracey Clissold | 3.13.50 | 1996 |
| 40-49 Men | Gary Dick | 3.05.35 | 1996 |
| 40-49 Women | Sandra Mewett | 3.29.34 | 1997 |
| 50-59 Men | Peter Daly | 3.26.49 | 1997 |
| 50-59 Women | Delphine Gore | 3.54.53 | 1995 |
| 60+ Men | Len Weldon | 4.08.52 | 1997 |
| 60+ Women | Peggy Fletcher | 4.50.49 | 1997 |